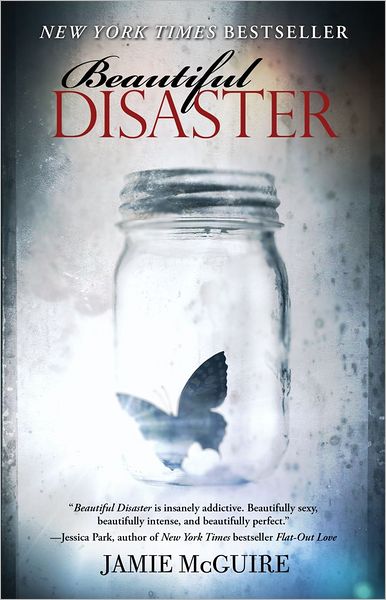 Beautiful Disaster by Jamie McGuire
From Barnes and Noble
The new Abby Abernathy is a good girl. She doesn't drink or swear, and she has the appropriate number of cardigans in her wardrobe. Abby believes she has enough distance from the darkness of her past, but when she arrives at college with her best friend, her path to a new beginning is quickly challenged by Eastern University's Walking One-Night Stand.
Travis Maddox, lean, cut, and covered in tattoos, is exactly what Abby wants—and needs—to avoid. He spends his nights winning money in a floating fight ring, and his days as the ultimate college campus charmer. Intrigued by Abby's resistance to his appeal, Travis tricks her into his daily life with a simple bet. If he loses, he must remain abstinent for a month. If Abby loses, she must live in Travis's apartment for the same amount of time. Either way, Travis has no idea that he has met his match.
REVIEW: 4 STARS
I was extremely excited when I found this book! I have a weakness for bad boys and Travis Maddox is the baddest of them all. It doesn't take much to set him off and you do not want to be on the receiving end of his anger. He has a new girl on his arm everyday and he is the exact opposite of who
Abby wants to be with. But when she goes to an underground fight she meets Travis and everything changes for her. I liked Abby a lot because she did not fall for Travis's charms the moment she met him. She was well aware of his reputation and she had no qualms about bringing it up as the reason their friendship would be their only relationship. But as the book goes on Abby finds out there's a lot more to him than a gorgeous face and his pent up anger. The more abby gets to know him, the harder it is to fight the growing attraction that they both feel. Travis was extremely sweet to her most of the time but he could really be a jerk when he wanted to. The one thing I disliked about this book was the length and the content of the middle of the book. I absolutely LOVED the first 130 pages or so (Nook Version) but than for almost the entire middle of the book I found Travis's behavior to be a little alarming. He took his sweet protective side to extreme lengths and he turned into the kind of person that Abby was trying so hard to avoid. The ending was a lot better, but it was a little out of nowhere. It was a good ending, but definitely not what I expected which was actually sort of nice. Over all this was a really good book. The romance was intense and the side characters were very refreshing. I definitely felt myself rooting for America and Shepley and I wouldn't mind reading a book from their prospective. The middle is slow but the ending is worth it so don't give up!
Find it at
Amazon
Find it at
Barnes and Noble